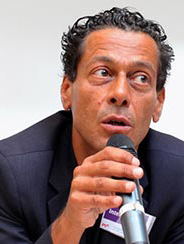 Philippe Chantepie is "Inspecteur général des affaires culturelles" in the Ministry for Culture and Communication. He is Associate Researcher in the "Innovation & Regulation in Digital Service" Chair.
He was in charge of Strategy and Forecasting studies at the General Secretariat of the Ministry of Culture and Communication (2010-2012), Head of the Department of Forecasting and Statistics Studies (DEPS) of the Ministry of Culture and Communication (2005-2010), technical adviser on internet regulation at the Ministry of Culture, ICT Project Manager at the Commissariat Général du Plan and member of the Mission e-commerce (1999-2000), after consulting in the sectors of culture, communication, banking and finance and philosophy teacher.
He published in 2017, with Pierre-Jean Benghozi, "Jeux vidéo : l'industire Culturelle du XXIe siècle ?"
He published also with Alain Le Diberder, Révolution numérique et industries culturelles, Coll. Repères, La Découverte (rééd. 2010) and La Nouvelle politique économique : l'État face à la mondialisation, Coll Major, Presses Universitaires de France (1998).