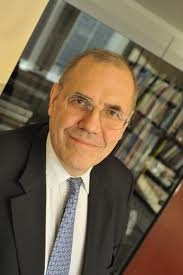 Nicolas Curien, Emeritus Professor at the Conservatoire National des Arts et Métiers (CNAM) was an associate researcher at the Innovation & Regulation Chair of Digital Services in 2012 until his appointment as a member of the Conseil Supérieur de l'Audivisuel (CSA), the French media ans communications regulator.
From 2005 to 2011, he was a member of the French regulator for telecommunications and postal services (ARCEP).
He began his career as a researcher at Télécom Paris, then in charge of economic studies at the Direction générale des télécommunications. In 1986, he joined the Department of National Defense as advisor to the Minister and then Deputy Director of Economic Studies at the Delegation for General Studies. In 1989, he became deputy director of the National School of Statistics and Economic Administration (ENSAE) at the Ministry of Economy and, in 1992, he was appointed holder of the chair « Economics and telecommunications policy » CNAM.
Nicolas Curien also taught economics at the École Polytechnique from 1985 to 2005, where he chaired the Department of Economics. Since 2000, he has been a founding member of the Academy of Technology and the author of several books and articles in the fields of industrial economics, network economics and the digital economy.
He is graduate from École Polytechnique and Télécom Paris,